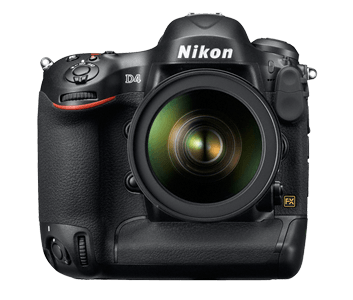 When the
Nikon D4
was announced back in January, I, like a lot of other photographers, was extremely excited. At the time I was shooting with a single D700 and was definitely looking to add an additional camera body to my arsenal for use during concert photography. While the D700 is an awesome and very capable camera, it is also dated. If I was going to spend the money on a new camera, I wanted the latest and greatest. Sure, I could have bought a D3S, but I've lost out on gigs because I didn't have "enough megapixels" or I didn't have 1080p video capabilities. So, being the forward thinker that I am, I decided that I'd bite the bullet and shell out the money for the D4 so I'd be prepared for whatever gig may come my way.
Before I go any further, I just want to let you know that this review isn't going to be technical. I'm simply going to express my observations about this camera, doing so mainly from the perspective of concert photography. Also keep in mind that I'm coming to the D4 after shooting a D700 for the previous two years and a D200 prior to that. There are numerous technical reviews and tons of ISO comparisons all over the internet. The forums on
Digital Photography Review
are a great resource if you're looking for a more technical review. Additionally, Scott Bourne has a mini review on his
PhotoFocus
website, expressing his opinion about the D4 from the perspective of a D3S shooter.
Thanks to
Casey Camera
, I had a D4 in my hands within the first week of its initial availablity. As an aside, if you live in Vegas, or are visiting and need something photography related, definitely check out Casey Camera. They're extremely friendly, knowledgeable, and have a great inventory. They also have on-site sensor cleaning and the gentleman who does the cleaning does an impeccable job.
Back to the review! My initial thoughts upon opening the box were immediately directed to how nice the packaging is. If you've ever bought an Apple product you know what I'm talking about. It's clear that Nikon takes pride in how it packages this top-of-the-line camera body, as everything is neatly separated by various layers.
Having previously had the opportunity to handle the D4 at both CES and WPPI, I knew exactly what to expect as I removed the camera body from the box. It's a marvelously constructed piece of equipment. Aside from the massive amounts of documentation, the box also contains the "HEY! LOOK AT ME! I'VE GOT A D4" camera strap, a dual slot battery charger (NICE!), CDs with Nikon View and the wireless transmitter utility, a hot shoe cover, and a usb cable clip. The battery comes approximately 50% charged and only took a little more than an hour to fully charge. Additionally, Sony has been gracious enough to throw in a 16GB XQD card and USB card reader.
So what's it like to shoot? Well, compared to my D700, it's night and day! Despite it's massive size, it feels lighter than my D700. And it's comfortable to hold. The autofocus is fast. Ridiculously fast! With my Nikkor 70-200 VR1 and 1.7x teleconverter, autofocus is beyond impressive. On my D700 with this lens setup, the time to required for the autofocus to work would have caused me to miss a shot or two. The D4 seems to lock on in half the time. Did I mention it's fast?!
11 FPS! Sure you lose AE/AF at 11FPS burst, but when the camera is set to CH, pressing the shutter release is like squeezing the trigger of a fully automatic machine gun. Even at 10 FPS, which does allow for AE/AF, you're likely to have fired off a minimum of 3 pictures with a slight tap on the shutter release button.
Backlit buttons! Finally! Nikon what took you so long!? This is one of those small features that really make a huge difference in terms of camera usability—especially when you're in a dimly lit location.
The updated LCD screen is gorgeous! It's almost like the difference between an iPhone with and without a retina display.
As far as ISO goes, I've got no complaints! I love the fact that the D4 nows provides ISO 100 at it's lowest level. But what I love even more is that I can crank the ISO to 6400 and not worry so much about noise. On my D700, I hated having to use anything above 1600.
Copying RAW files from the XQD card using the included XQD reader on my 2010 Mac Pro via USB is fast. NEF file sizes range between 17 and 22 MB and I'm able to transfer 100 files in just under a minute. This is definitely faster than copying from my UDMA CF cards via my USB CF card reader.
Last weekend, I was shooting
Five Finger Death Punch
at The Joint in the Hard Rock Hotel. This was my first real shoot using the D4. I had my 24-70 on the D4 and my 70-200 on the D700. Both bodies were set to CH and I kept my ISO at 1600. I'm not going to lie. This shoot was a bit more challenging, but only due to the fact that I was using the D4. I did spend a few hours on the days prior playing with the camera to get familiar with it's ergonomics, but a few hours is not enough time to adjust from 2 years using the D700. As a result, I fumbled my way through the first song. Fortunately, the lightning fast auto focus and the ridiculous power of 10 FPS ensured I got nearly every shot. The two shots below each have three or four additional frames leading up to what you see.
I think the biggest adjustment for me is having to learn where the auto focus point selector switch is, as this is where I spent a lot of time fumbling around. Since I'll continue to shoot with my D700, I know it's going to take a lot of practice to be able to seamlessly switch between the two vastly different bodies.
I can't comment on the new auto ISO feature as it's something I definitely didn't want to risk playing around with when shooting a show with a three song limit. I'm going to save experimenting with it for a bar shoot where I can shoot an entire set. That's also the environment where I'll be able to fully test out how matrix metering on the D4 works with the SB-910 and if there have been any improvements. I don't believe I've read a single review on the D4, that discusses it's metering/flash performance. I actually think this is pretty important information for wedding photographers, as well as live event photographers, so once I get a chance to test, I'll update this post.
I also can't comment on the video capabilities. Shooting video will be a new endeavor for me and trying to figure it out during an assignment would be foolish. Not to mention, I'm not getting paid to provide video of the show. Perhaps, once I've fully mastered the updated ergonomics of the D4 and have had some time to learn the basics of shooting video with it, I'll attempt a 30 second video capture during one of my concert shoots to play around with pulling stills from the video.
Here's one last picture from the Five Finger Death Punch show that I think really shows the beauty of the images produced by the D4.
If you have any questions about the camera and how it's been performing for me in concert environments, please don't hesitate to contact me. I'll do my best to answer your questions!
I love hearing from my readers. You can follow me on Twitter or use the "Contact" button to get in touch, so feel free to send me your comments and let me know if you have any suggestions. Please visit my the concert section of my website to see these and additional photos from all the shows.